Friends of RHR, apologies it's been so long, we have much to catch you up on.
2018 has been a big year for the team at Rocking Horse Road and Coversion Music. Not only have we secured some killer placements, but we've also travelled the globe. From Cannes to LA, Amsterdam to Truro, and everywhere in between, RHR has been working hard to become internationally recognized.
So, here's a quick recap for you all.
February
The year started off with a bang, with RHR team member Janesta travelling to Northern Ireland for Output Belfast to chat about music supervision in video games.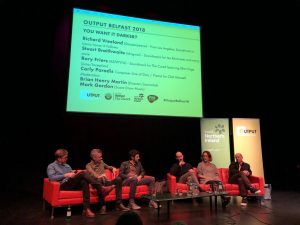 May
The month of May began with RHR team members Janesta & Emma meeting in Halifax for the East Coast Music Week , followed by the two flying to Toronto travelling to Toronto for CMW (see previous post).
Shortly after returning home from a busy time in Canada for ECMW and CMW, Janesta hopped on a plane (again) and landed in Amsterdam for the 2018 BUMA Music in Motion conference. She shared her knowledge/experience working with cover songs in sync, and looked pretty damn professional doing so!

The spring also saw the release of "Jurassic World: Evolution", the latest game from Frontier Developments and music supervisor Janesta Boudreau. She grabbed a nomination (and an award! See previous post) for her work on this (but more on that later…) and is currently working on a super, secret new game.
June
June was a busy month for owner/operator Janesta. Making two trips to the sunny location of Cannes, France. Her first trip was to the Midem Music Festival, where she spoke on a panel discussing music supervision in video games. She got to hang out with fellow music supervisors, and mingle with RHR Artist Toya Delazy.
Later in the month, team members Janesta and Emma traveled back to the beaches of the French Riviera for the Cannes Lions International Festival of Creativity. Connections were made, celebrities were spotted and ocean meetings were invented. It was a week for the books!
August
Fast forward to August, Jetsetter-Janesta hopped back on a plane to travel all the way to Los Angeles for meetings, meetings and more meetings.
October
For the second year in a row, Janesta was nominated for 'Best Music Supervisor –  Video Games' at the Music Week Sync Awards for her work on Jurassic World: Evolution. While she didn't walk away with a win this year, we're looking forward to 2019 – third time's the charm right?
November
Back in Canada, team member Emma travelled up to Truro, NS for another year of Nova Scotia Music Week. It's always a great time to be surrounded by so many talented local artists, and Music Nova Scotia has worked hard to bring in delegates from all around the world – with a lot of focus on music supervision, naturally 🙂
That's all for now friends, looking forward to a great 2019!