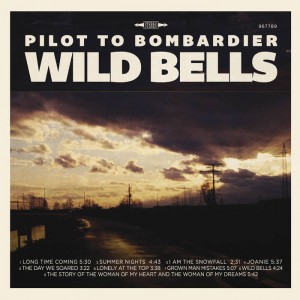 It's not secret that we love us some Bryan Power songs, and with the new Pilot To Bombardier release, Wild Bells, we are SURELY not disappointed! The songwriting on this record is superb. I even shed a tear or two on a train from Cambridge to London while listening to "The Day We Soared". That's not happened, ever. Check out that and "I Am The Snowfall" below, or listen to the whole thing HERE.
From CBC Music:
"Pilot to to Bombardier's music recalls the folk country musings of Neil Young, Magnolia Electric Company, Guy Clark and The Band mixing hoedowns with an abundance of slow-jams in each set." (The Scope)
With an alt-country feel and a penchant for haunting harmonies, Pilot to Bombardier writes and performs songs that are both "suave and sophisticated." (Salty Ink)Influenced by such music greats as Ryan Adams, Gram Parsons and Jason Molina, Pilot to Bombardier's songs speak to the heart of the listener.  With insightful musical observations on love and loss, explorations into our sense of place and our understanding of self, they are armed with music to captivate their audience.
Pilot to Bombardier has been relentless to make their quest to make their songs heard. Their 2012. release, "Juliet on Fire Keep Clear", brought them from the east coast of Canada to western Europe, garnered multiple award nominations, and put them on the stage with the likes of Dan Mangan and The Wooden Sky.  With no glitz or glamour, just armed with searing songs and a stellar band, Pilot to Bombardier has build a loyal fan base that continues to expand. They have set the course to soar.